USD $3,000
US customers can buy the swivel here burovik.us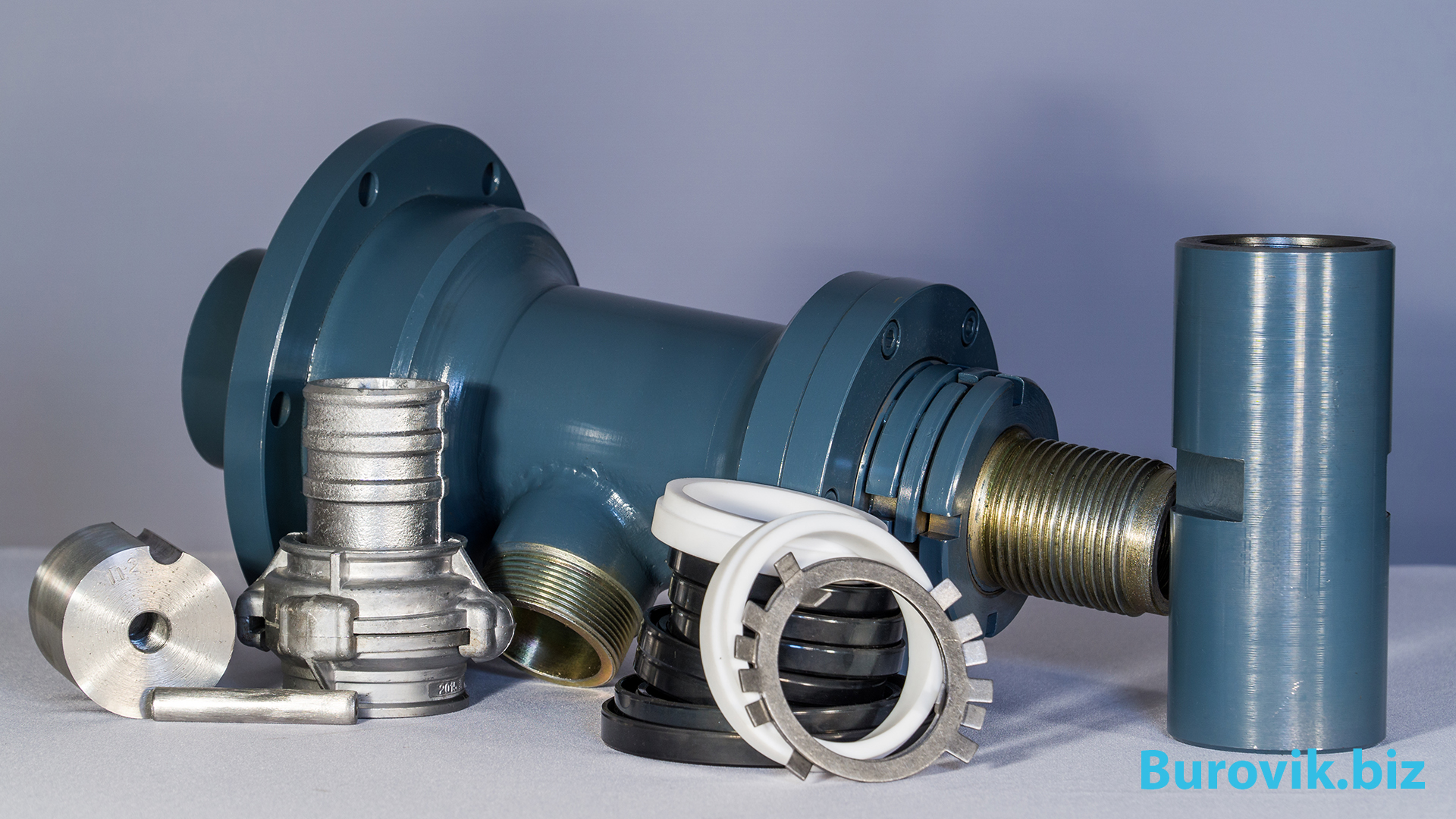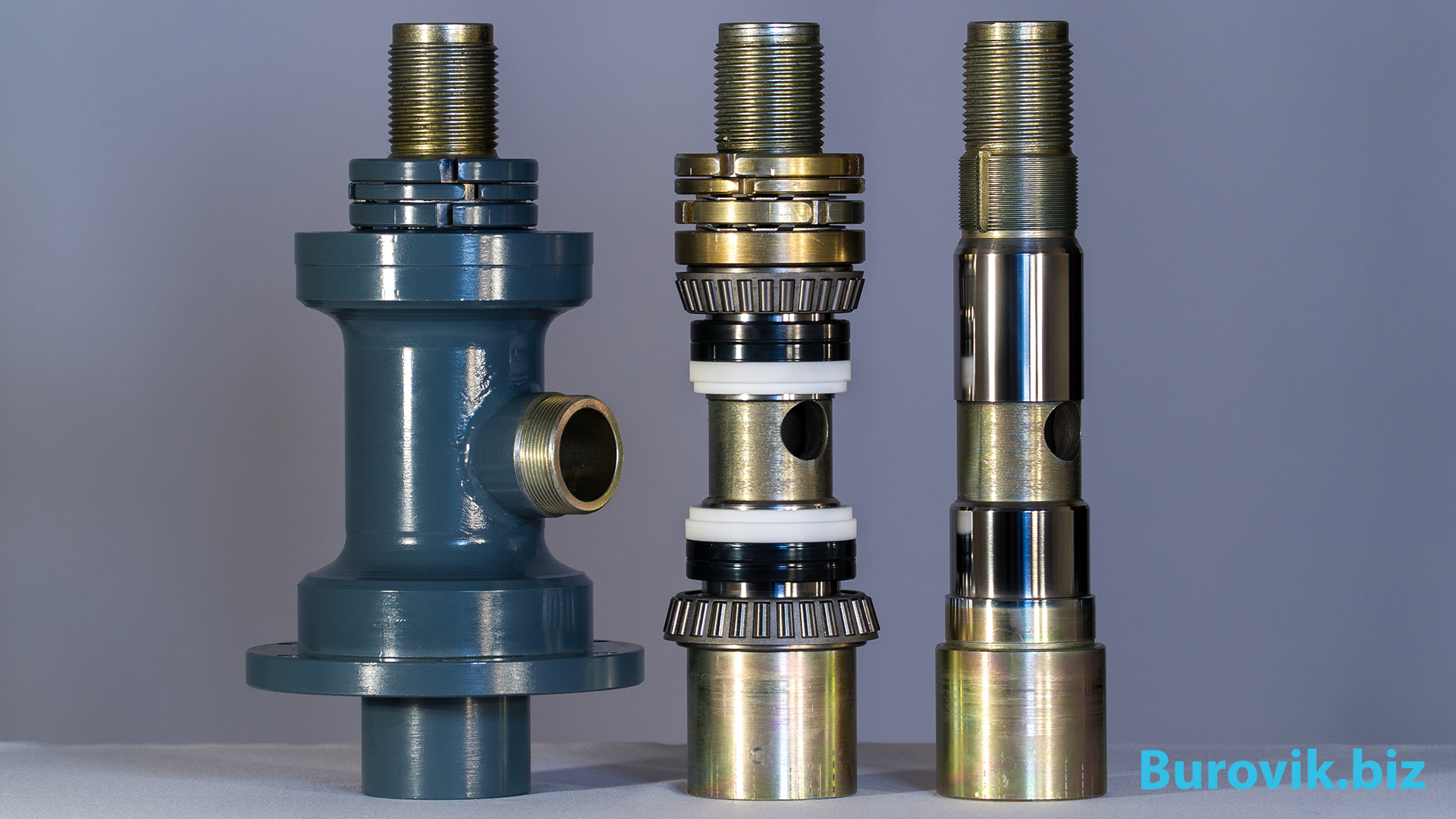 Specifications:
Weight: 30kg
Capacity: 6,8tonns
Bearings: Tapered Roller
Seals: PTFE + reinforced seals
Pressure: 20bar
Water hole: 35mm
Information
The swivel is designed to supply the drilling fluid to the drill string during its rotation.
Advantages:
Long service life without replacement of seals;
Resistant to axial loads;
Shaft restoration capability.
Stainless bushings
The main innovation is stainless bushings, which are mounted on the shaft. They are made of stainless steel, hardened to 60HRC rockwell units and grinded to the mirror state. The shaft does not corrode during operation, seals slide over a smooth surface. After a few years, you will be able to replace the bushings with new ones, it means that the swivel operational life is not limited.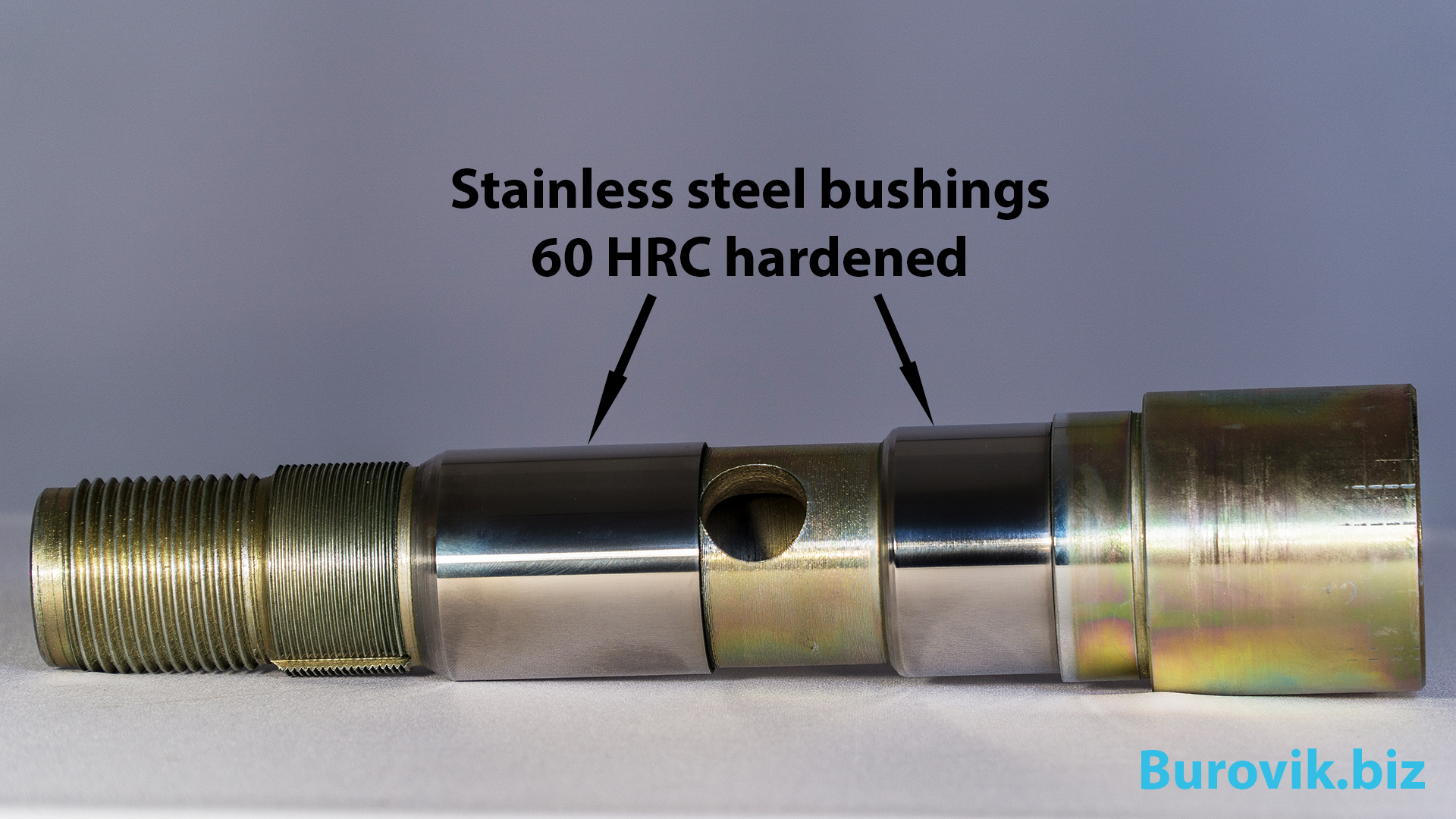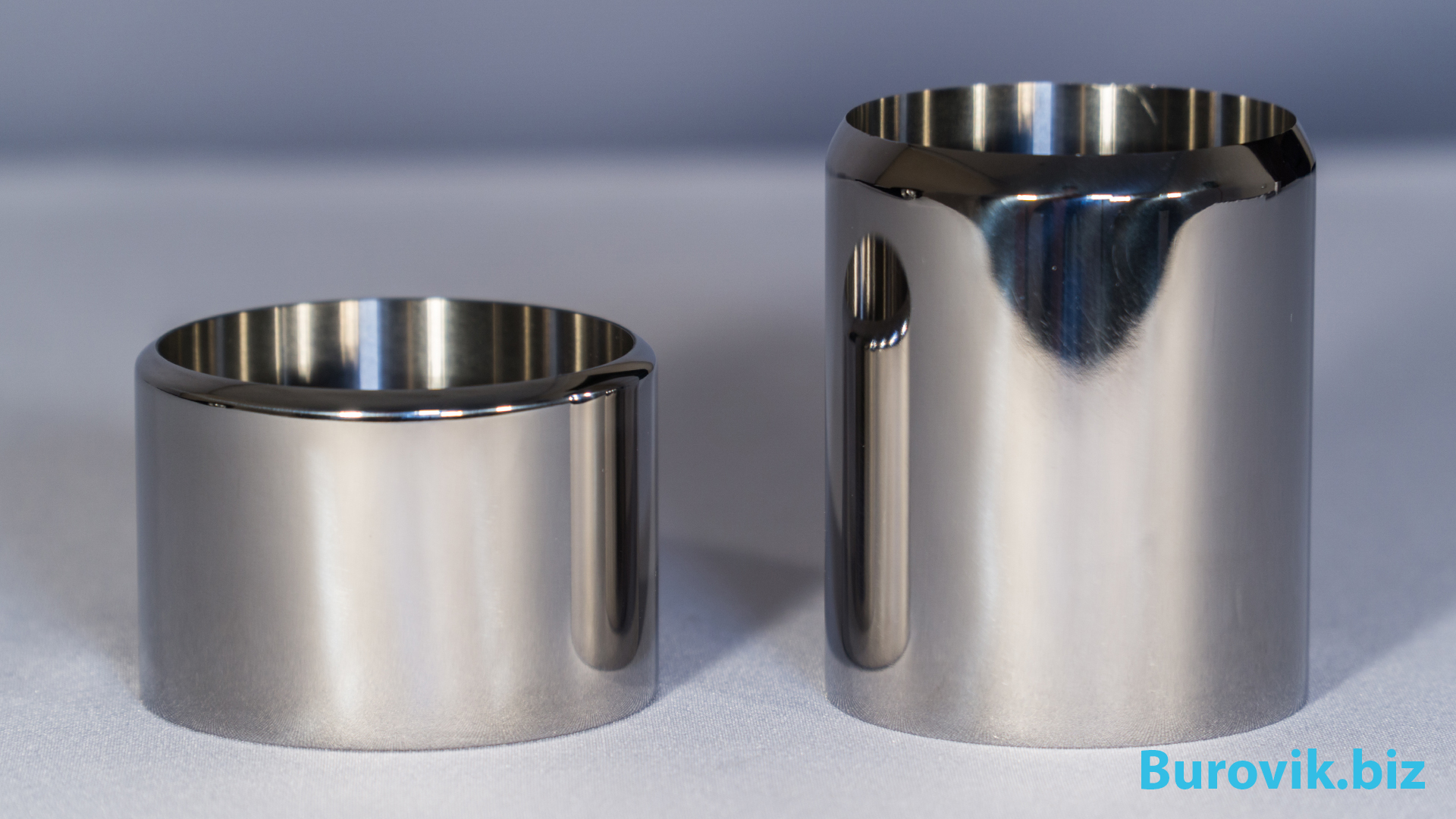 Zinc coating
All details: body, shaft, flanges, nuts are covered with zinc. When in contact with water, the metal will not rust. Sealing seats will retain their original condition.
Bearings
We use tapered roller bearings. They can take strong shocks and vibrations.
The swivel is a supporting element that receives loads and transfers them to the drilling rig frame. In this way, the load is removed from the rotator. A hydraulic motor or a gearbox cannot hold drill rods with tool, it will quickly fail. However, if the swivel is installed and connected rigidly to the drill carriage, the motor will rotate only. As result, service life will be much longer.
Very often other swivel manufacturers use radial bearings, but they can only operate with radial loads. In this case, loads are directed up and down – along the axis. Therefore, only tapered roller bearings must be used.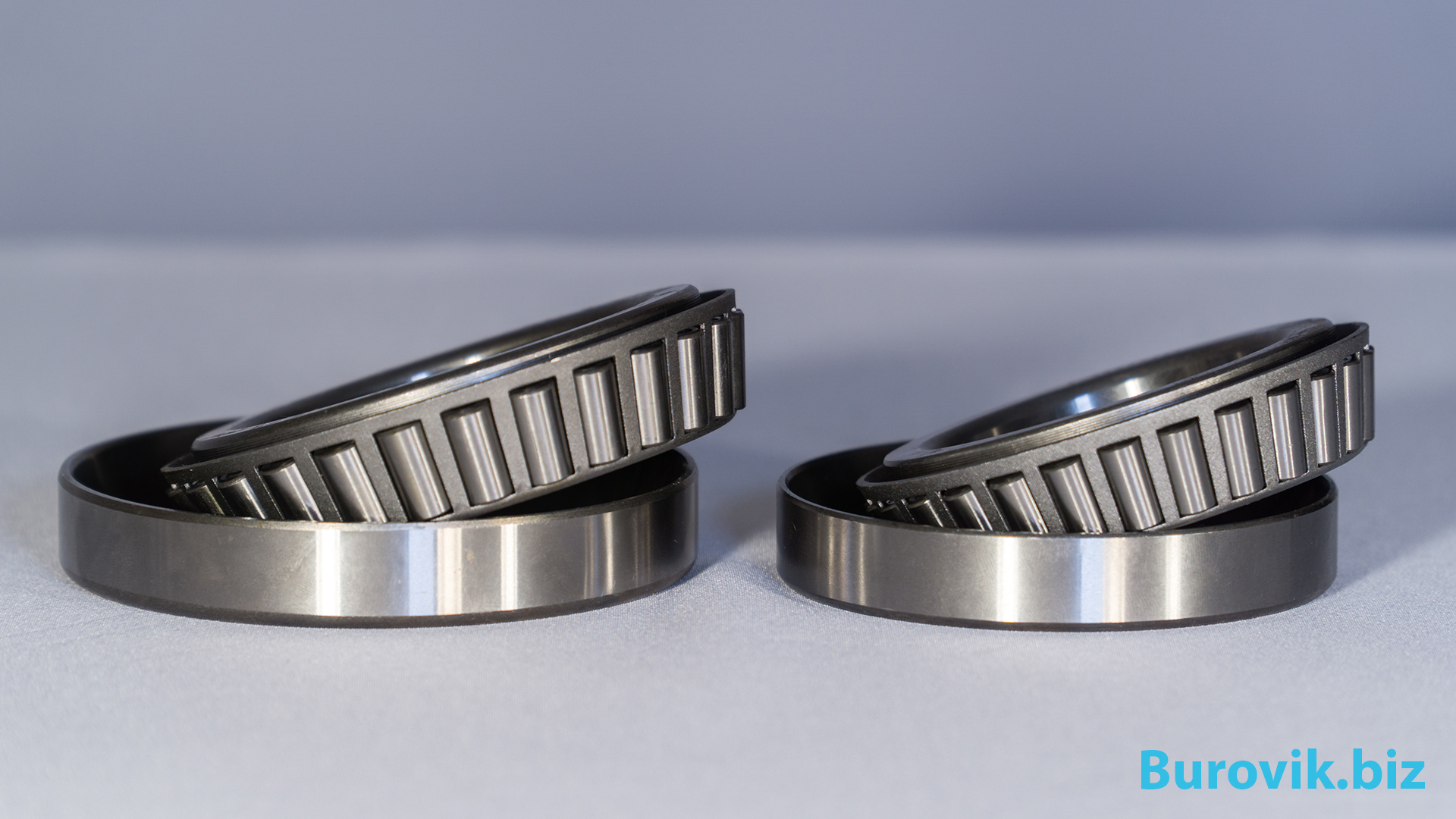 Seals
Three seals barriers are used to ensure tightness:
The first and the most important one is PTFE bushings. They have interference on the inner and outer diameters. Due to the tight fit and wide slip plane, the contact with abrasive particles, which are contained in water is excluded.
Standard seals cannot operate under such conditions. When in contact with sand, the seals quickly become inoperative and the grooves are formed on the shaft surface.
Therefore, we use wide PTFE bushings to protect the seals against abrasive particles.
The second barrier — standard reinforced cuffs. They are capable of holding the pressure. The internal cavity is filled with oil during assembly. It is widely agreed to pump additional oil. But this is not required for such type of seals.
These cuffs operate in ideal conditions: They are in an oily medium and do not interact with abrasive particles. Sliding over a hard stainless steel bushing with grinded surface eliminates the formation of grooves. In such conditions seals can operate for many years.
The third seal barrier is ensured by the tightness of the swivel body. The inner cavity in which bearings are located is filled with oil, so we installed cuffs inside the flanges.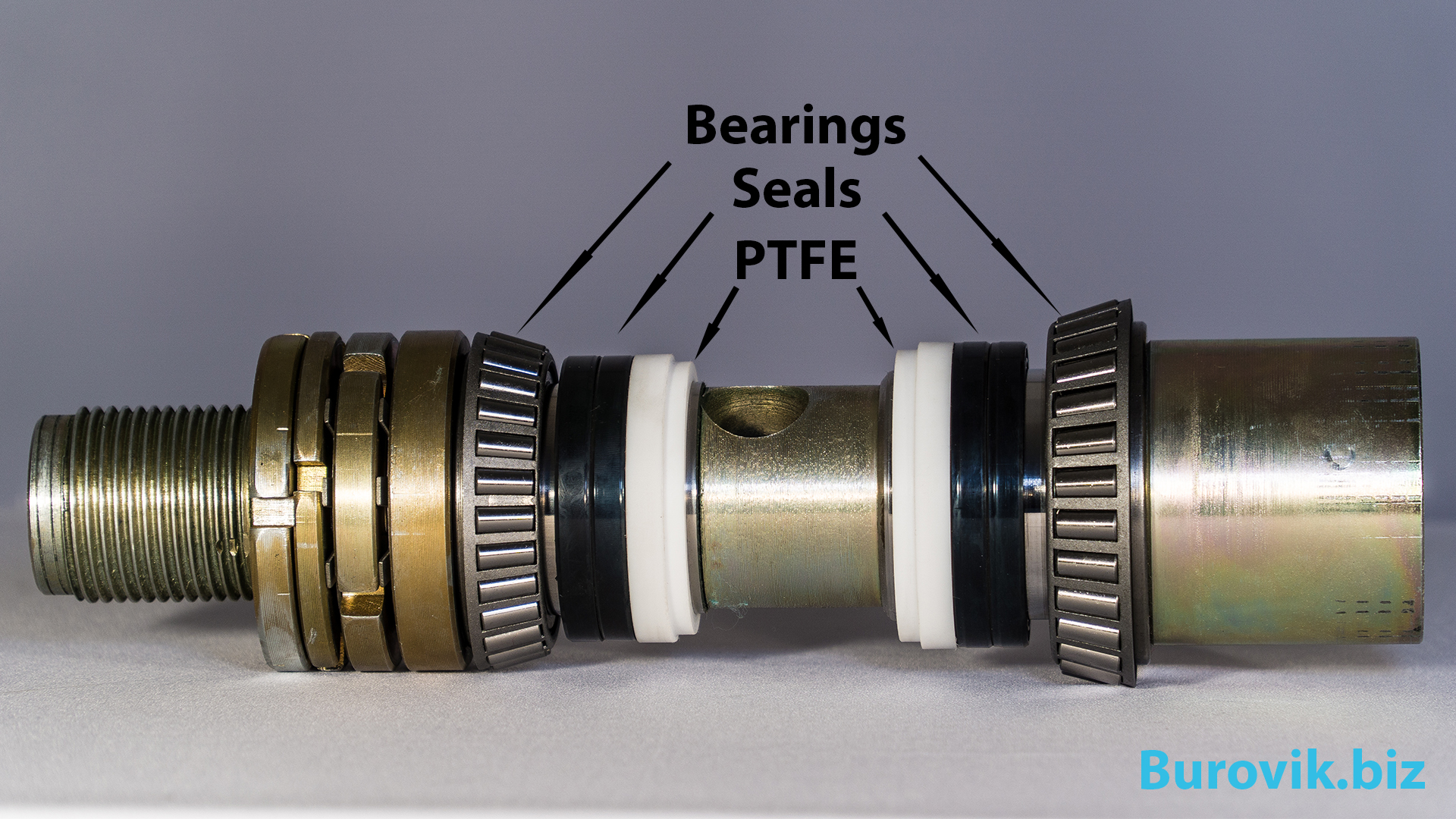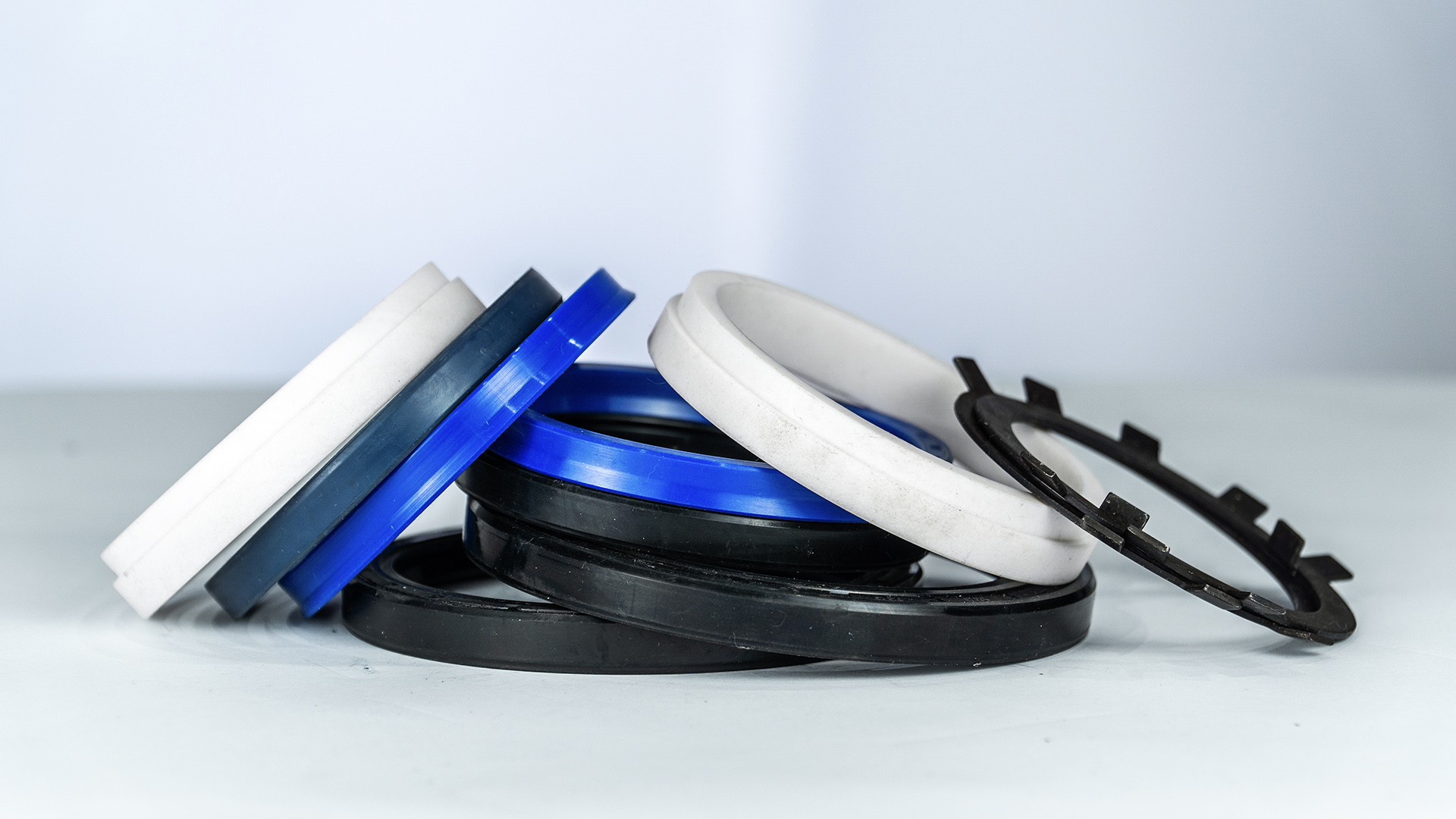 Connection to the drilling rig
A massive flange with fastening holes is used for connection to the drilling rig. The swivel is rigidly connected to the rig carriage and transfers the load to the frame. To do this, you can make a transition piece or adapter bushings that will be connected to the swivel and the carriage.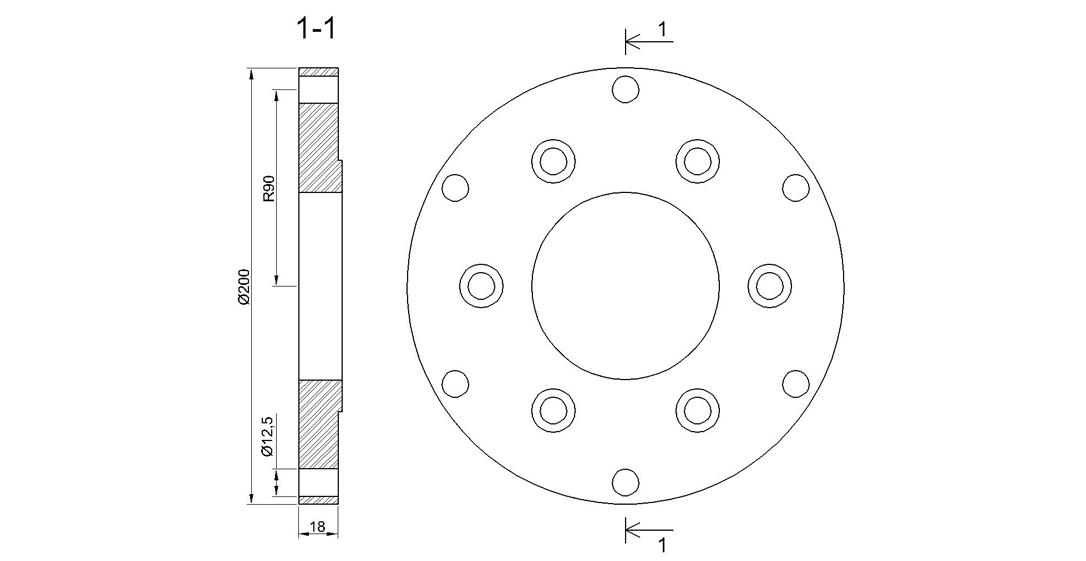 Connection with motor
We have developed a universal connection that can be compatible with various motors. This is a bushing , inside which the connection is made. It can be a key, spline , hex, square, thread, etc. We have ready-made bushings for most rotators. You can use several bushings for various motors, they are interchangeable.

If you want to use another connection, I`lll give you a solid bushing , inside which you can do it yourself.
We can make also a connection inside shaft on special order without use of bushing, for example, for a big rotator with a locking pin. Or similar connection with a big hexagon.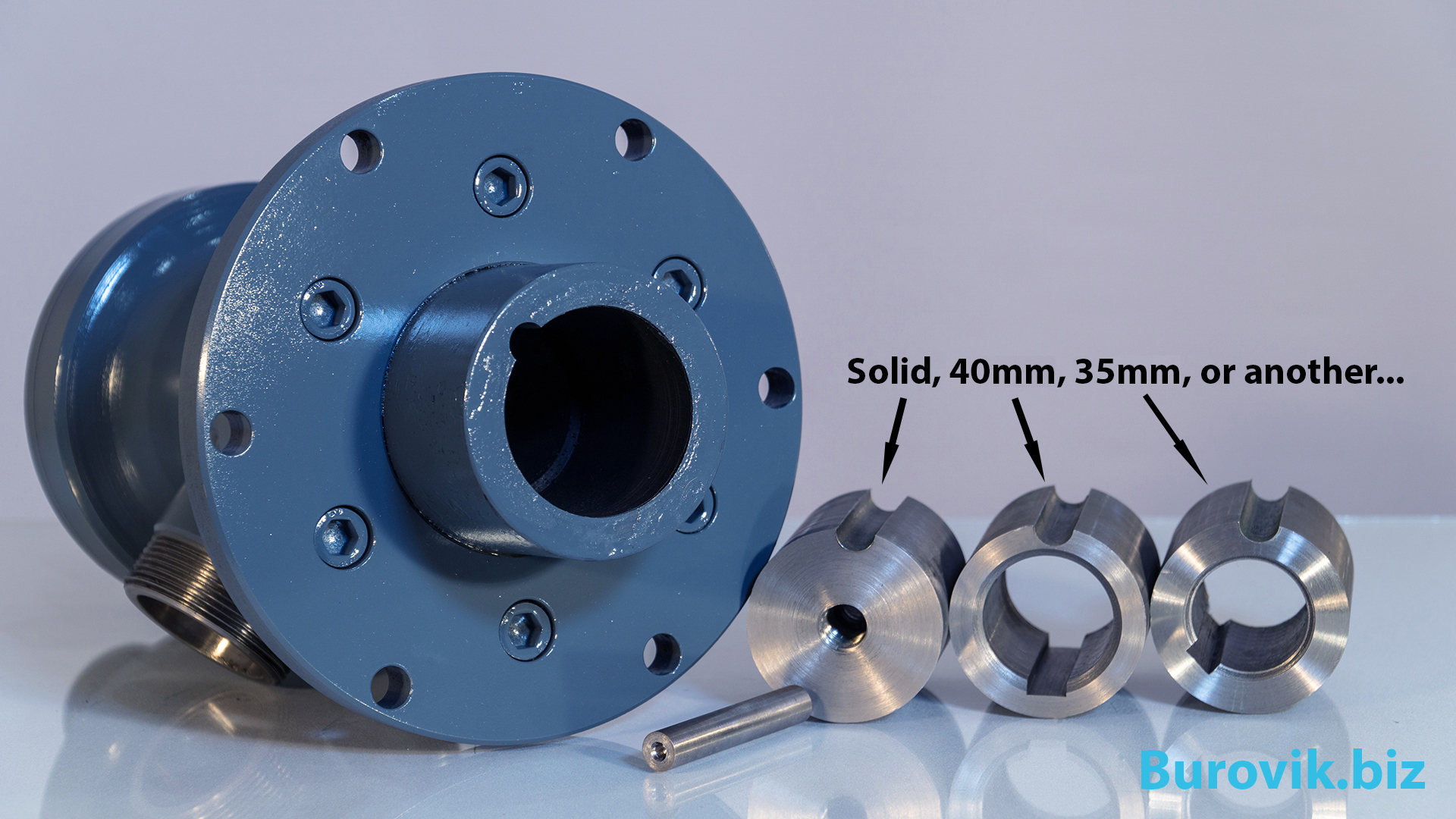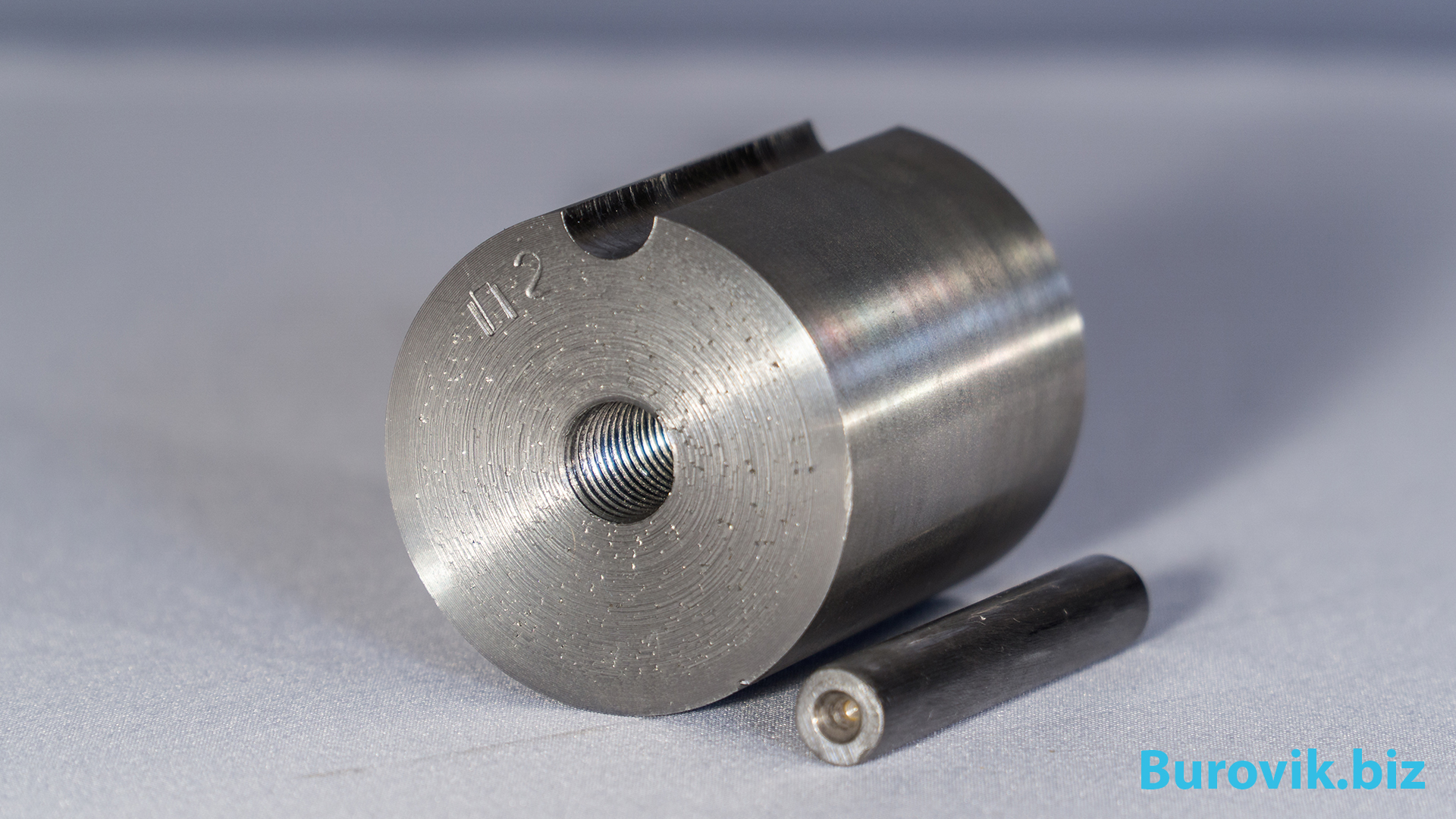 Connection with drill rods
An adapter is used to connect to drill rods. It is screwed on the swivel shaft.
Because different types of threads which are used in drilling rigs, there is a body to cut your thread on the back of the adapter.
In this way, our swivel is compatible with any rods.
After the prolonged operation, the thread will wear out, the adapter can be replaced with a new one.
To lock the adapter with reverse rotation here is used a special nut. The operation of the clamping device is that the thread pitch of the nut differs from the adapter's. They need to be welded together. In this state, the adapter will not unscrew.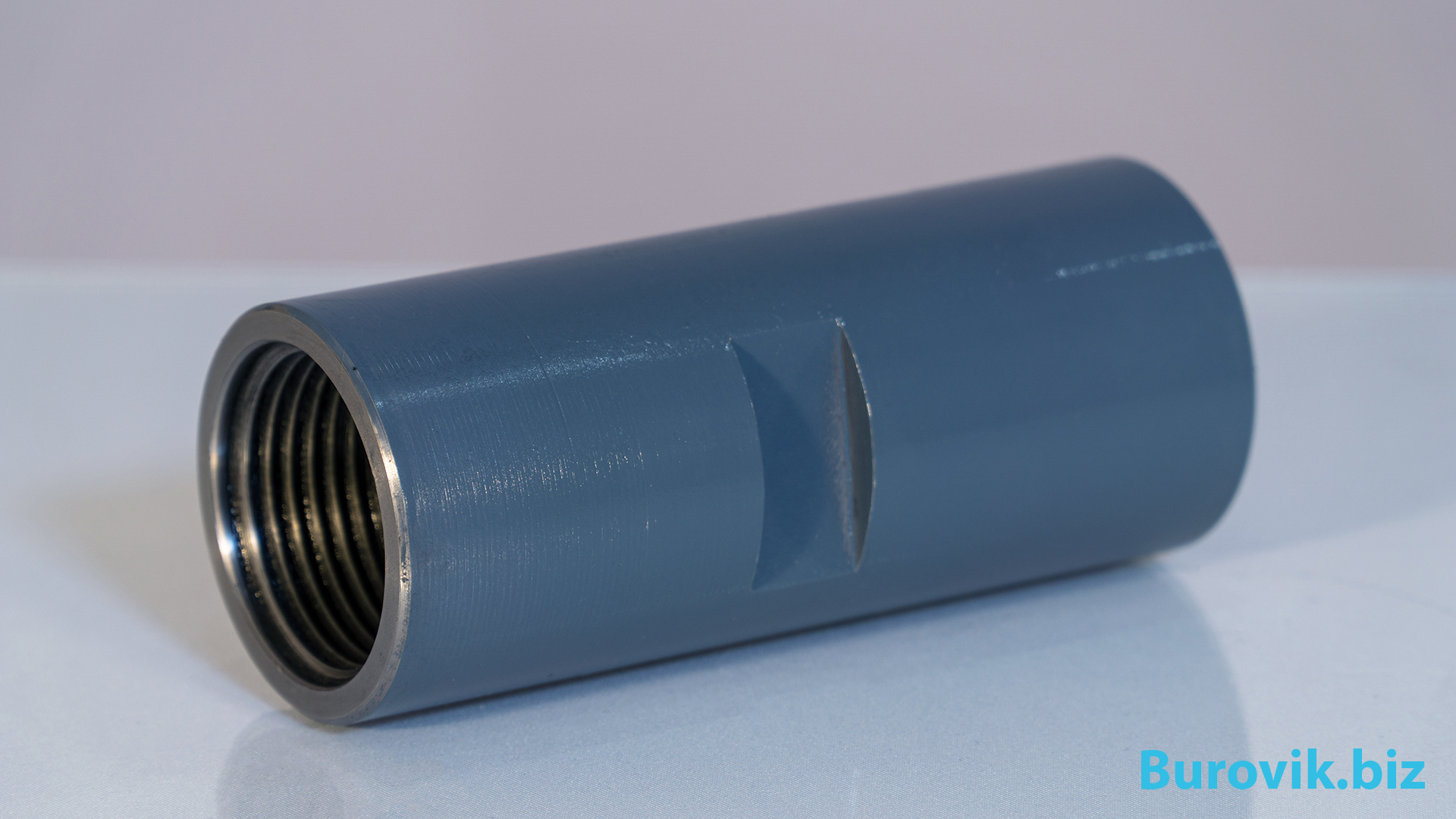 Connection for water supply
A quick-detachable aluminum joint is used to supply water. One part is screwed on the body, the second one is connected to a hose.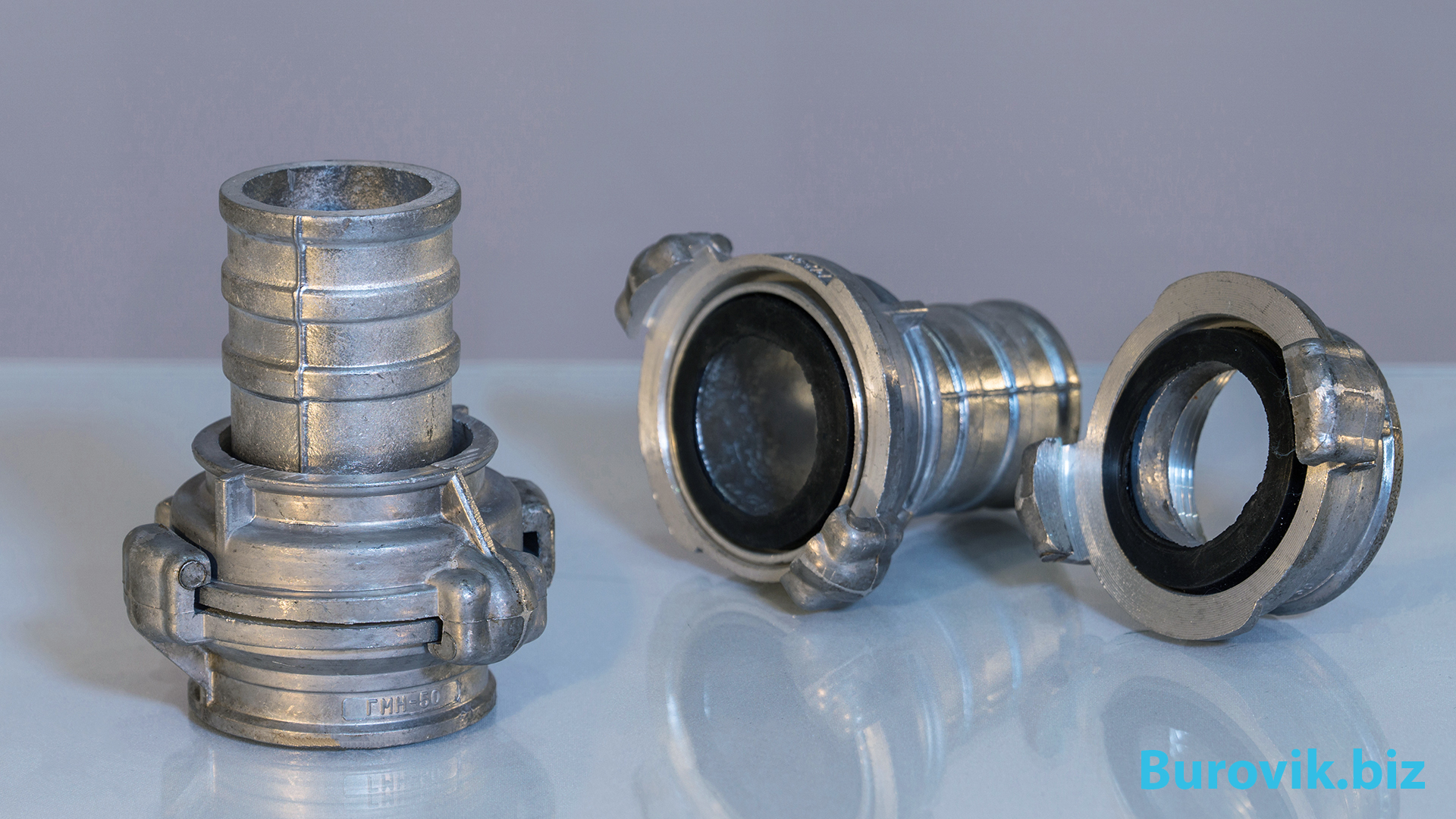 Main dimensions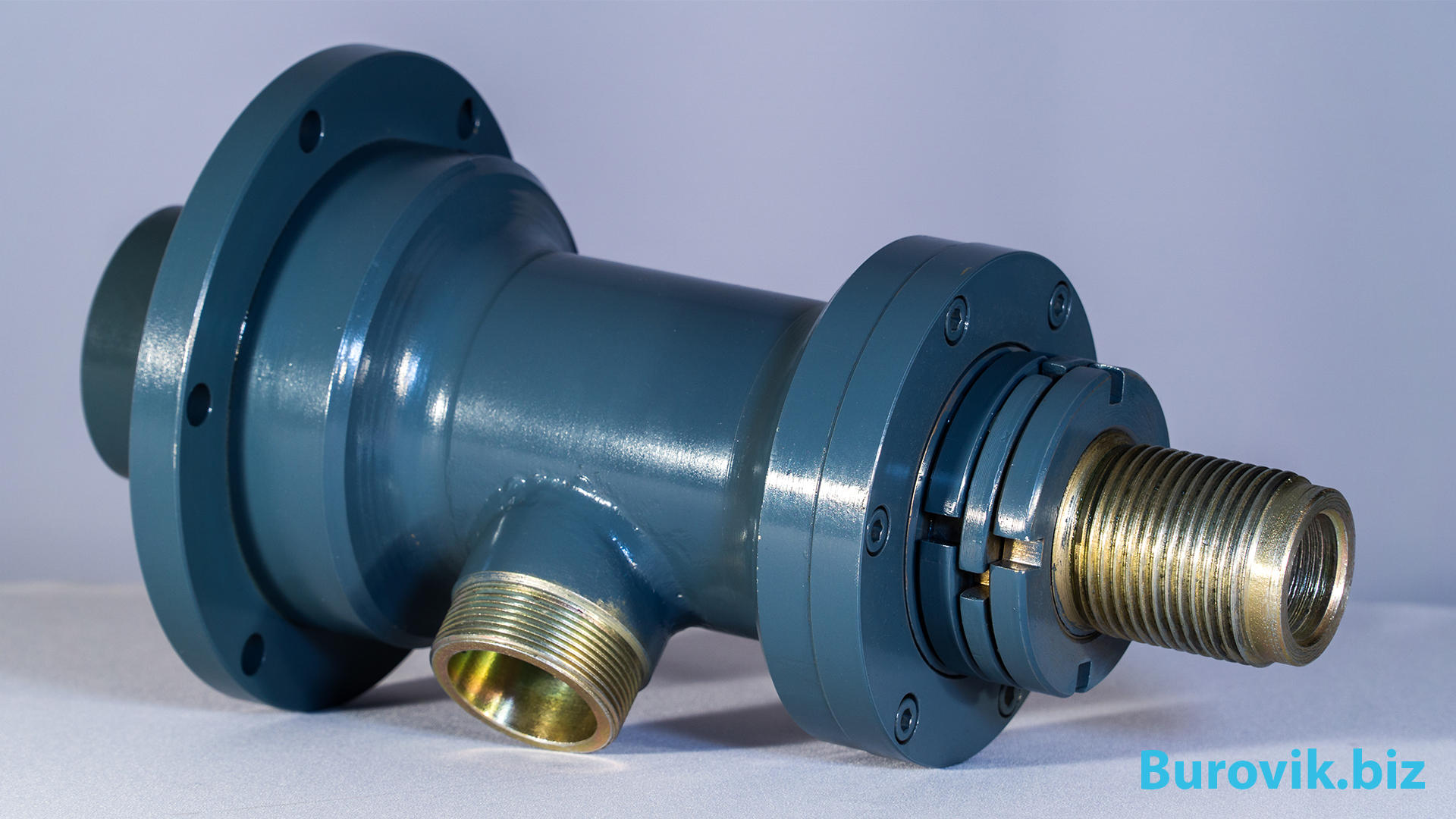 The kit includes:
Swivel
Adapter
Motor connection, pin
Quick-detachable joint for water supply
Spare seal kit: 2 fluoroplastic bushings, 6 cuffs, 2 multi-tang lock washers
This swivel is the most technologically advanced solution for a small drilling rig. Due to the use of replaceable stainless bushings, its operational life is unlimited. After installation on your drilling rig, you forget about constant breakdowns and will do your business with pleasure.
How to buy?
Contact us and write next information:
List of items with quantity
Country of destination
We will calculate total price with shipping to your country and will send you an invoice.
After payment we will send your order within 1-5 days and will give the tracking number, so you can track the movement of your package.
Shipping price: